Description:
When
it comes to measuring the wind conditions and speed this product would be the right fit for the job.
Precise and compact making it easy to carry around outdoors. Has an inbuilt power save feature which gives you prolonged battery life as well as some smarts to record the values and data holding capability.
It has the added feature of ability to measure temperature, making it a dual-purpose unit.
Ideal for RC flying, field tests for wind generation, wind farms, paragliding, growing crops etc

Features:
Measure wind speed and temperature.
High precision pressure sensor.
Quick response, external thermistor.
Wind speed reading.
Wind speed unit: m/s, Km/h, ft/min, Knots, mph.
FPM (foot per minute, ft/min ): 160
Resolution Ratio: 19.6 ft/min
Current/max/average wind speed reading.
Temperature display in °F/°C.
Wind temperature range: -10 - 45°C (14-113°F)
Data hold function.
Auto/manual power off.
Powered by a 9V 6F22 battery.
Specifications:
Air Velocity:
Range: 0 - 30m/s, 0 - 90km/hr, 0 - 5860ft/min, 0 - 65mph(±5%), 0 - 55Knots
Resolution: 0.2°C, 0.2m/s
Auto power off 14 minutes without any operation
Accuracy: ±5%
Air Temperature:
Range: -10 – 45°C, 14 – 113°F
Resolution: 0.2°C, 0.36°F
Accuracy: ±2°C, ±3.6°F
Thermometer: NTC Thermometer
Operating Temperature: -10~+45°C (14~113°F)
Power Supply: one 9V 6F22 battery ( not included )
Operating Humidity: less than or equal to 90%RH
Storage Temperature: -40~60°C, -40~140°F
Current Consumption: About 3mA
Item Size: 52.5x35.5x160 mm
Weight: 187g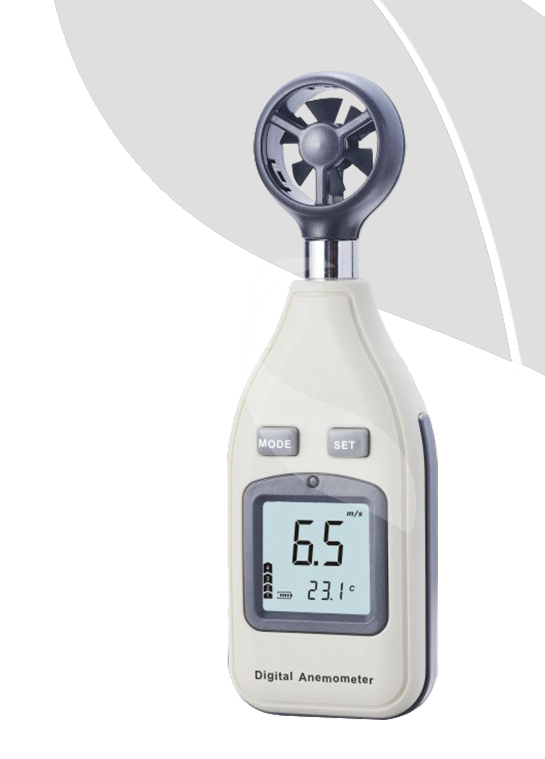 Weather stations, wind meter, anemometer handheld, hot wire anemometer, anemometers, handheld, thermometer, wind vane, what is an anemometer, wind speed meter, wind meter, davis weather station, wind vanes, how to make an anemometer, wind gauge, oregon scientific
Image: