Description:
Overview
An anemometer is a device used to measure wind speed and direction. If you are into adventure sports, flying drones, or working with ventilation systems, it's an indispensable tool to know your operating environment. It makes for a great investment and deserves a place in your toolbox.
The digital anemometer we are selling is a handheld model to measure wind speed, direction, temperature, and chill. With two sensors and a fan with eight sensitive blades, this device offers accurate wind measurements no matter what your use cases are. The inclusion of a large 1.5-inch LCD screen with a backlight makes all the readings easily visible, whether it's day or night.
This pro-level anemometer comes with six tactile controls to perform various functions at the press of a button. With the Unit button, you can toggle between various units to measure speed, while the ℃/℉ button allows you to switch between Celsius and Fahrenheit scales. The device also supports minimum-maximum and average measurements, eliminating the need for manual conversions and calculations.
Smarter power management features make this anemometer last longer, making it ideal for marathon sessions outdoors. Even when the batteries are running out of juice, a low battery indicator will warn you in advance to avoid any surprises. A screw hole at the bottom of the device allows it to be mounted on a tripod for accurate fixed-point measurements for longer durations. The included lanyard cable can also be screwed into the device to carry it easily.
Top reasons to buy this anemometer-
Multifunctional anemometer to measure speed, direction, temperature, and chill

Precise measurements due to high-quality sensors and fan blades

Supports multiple measurement units and formats

Thoughtful design with emphasis on ergonomics and usability

Durable build quality and design choices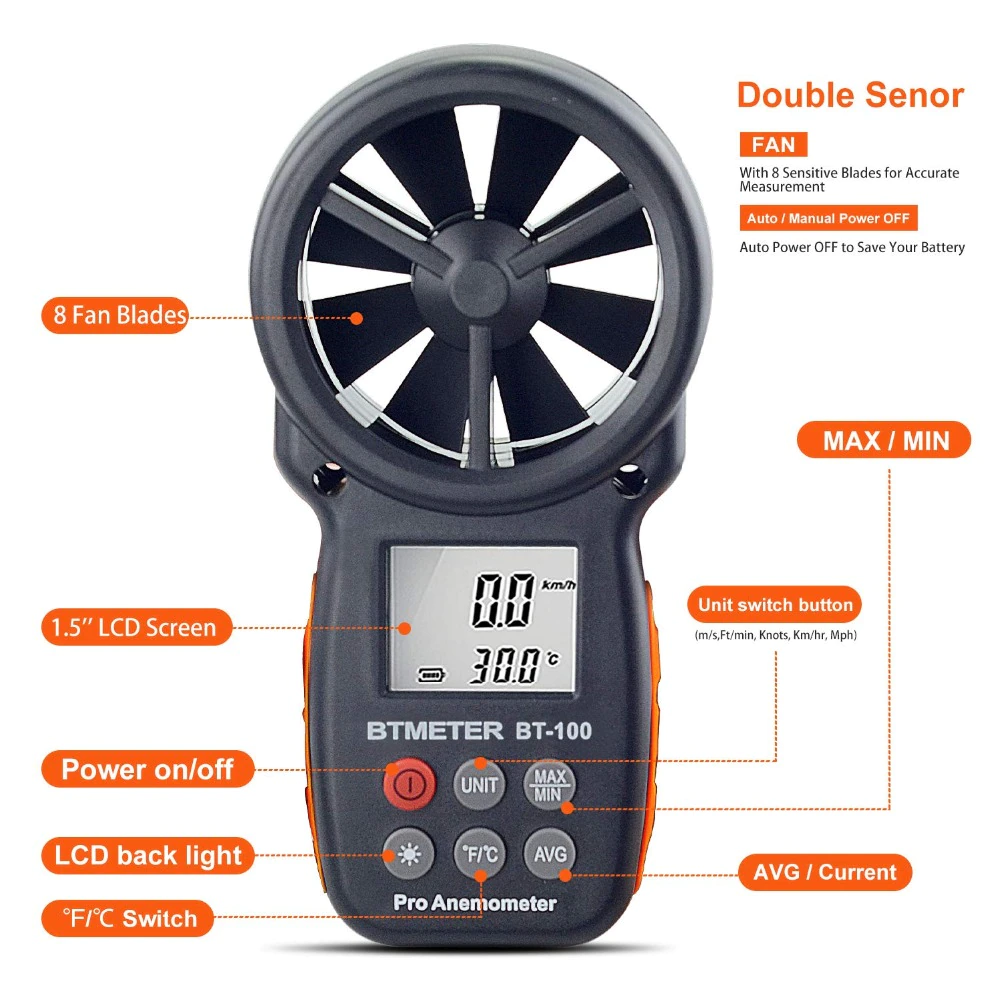 Technical specifications
Dimensions (L*W*H): 6.5*3.4*1.5 inches

Screen Size: 1.5 inches  

Screen Type: LCD

Wind Speed Range: 0.3-30m/s (Max up to 69Mph)

Temperature Range: -10℃-45℃

Relative Humidity: 5-95%RH

Accuracy of Wind Speed: 0.1dgts

Resolution: 0.1m/s

Supported Measurements: Speed, direction, temperature, chill, Max/Min, Avg/Current

Temperature Scales: ℃/℉

Wind Speed Unit Selection: m/s, Ft/min, Knots, Km/hr, Mph

Battery Type: 2* 1.5V AAA Battery

Power Management Features: Manual/Auto power off, low battery indicator

USB Port: No
Package Contents
Digital LCD Anemometer

Lanyard cable

Carrying pouch

Quick start guide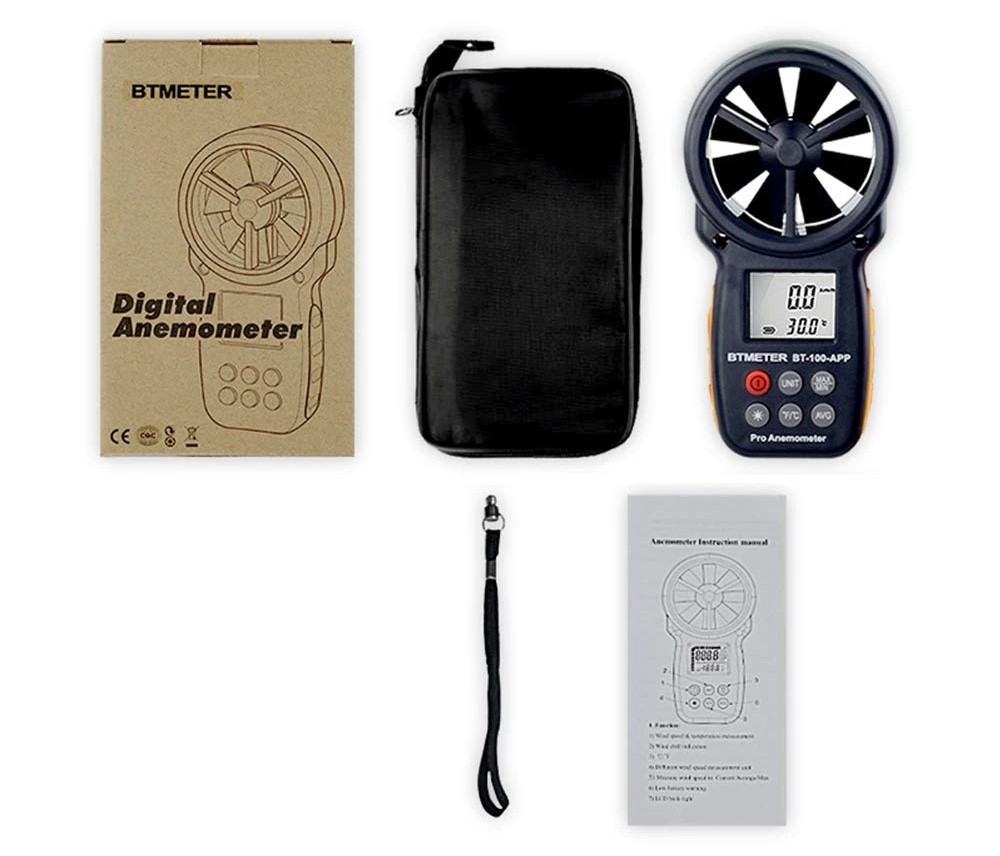 Applications
The measurements taken from an anemometer are used in a variety of adventure sports and work environments. The various anemometer measurements are useful for-
Long-range shooting

Field archery

Windsurfing, skydiving, kite surfing, etc.

Flying drones

Basic weather readings

Testing ventilation systems, etc.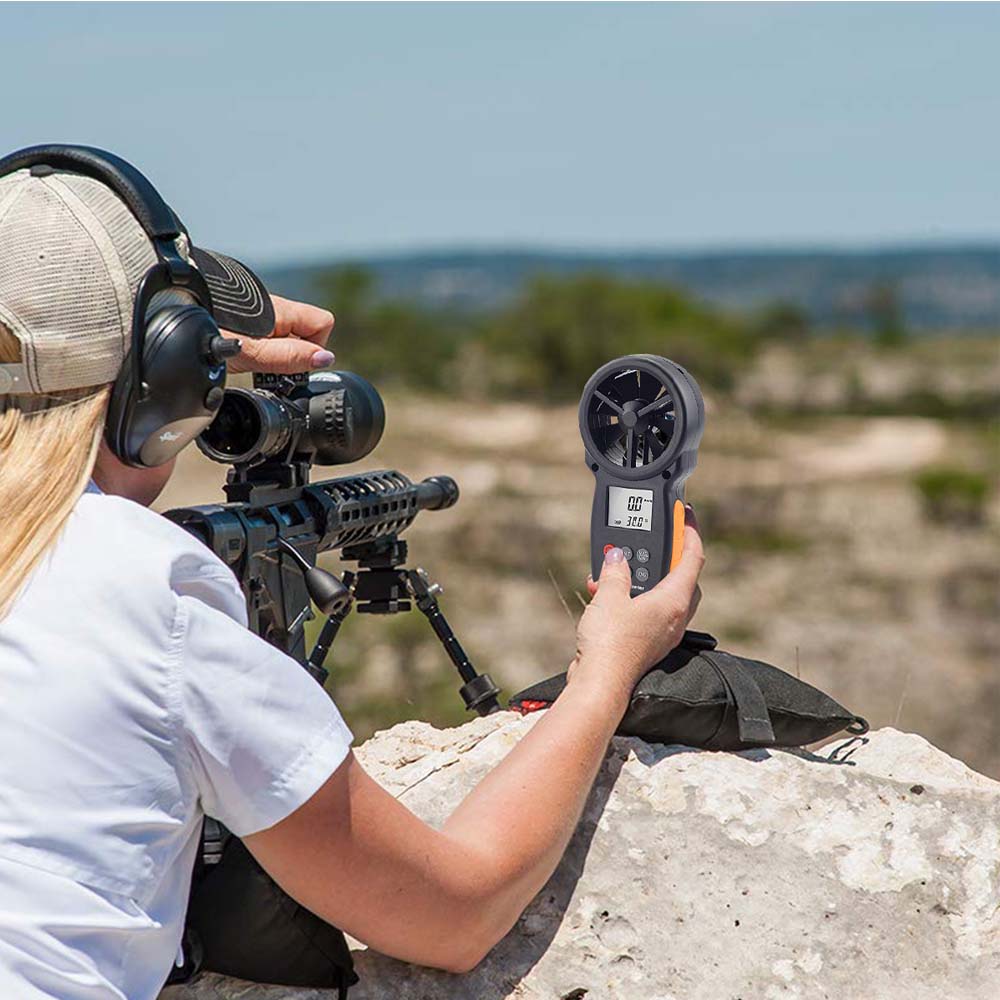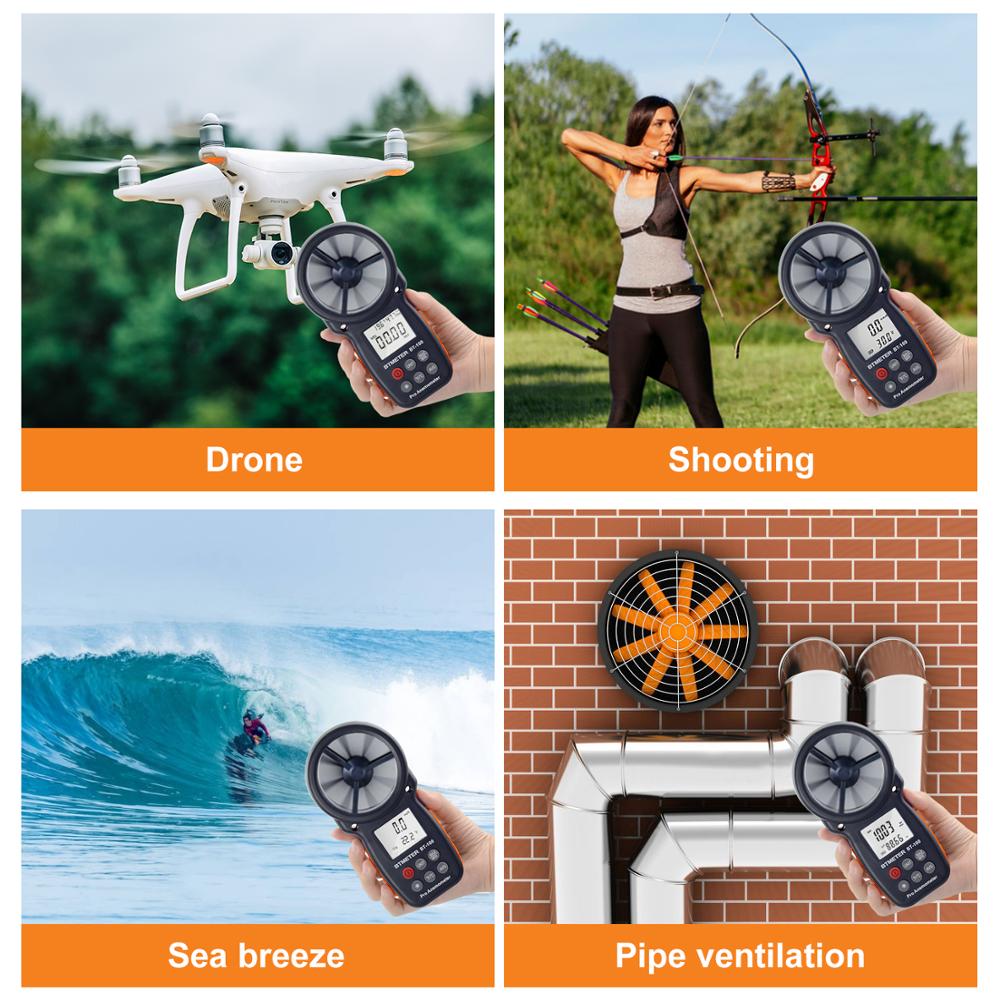 Frequently asked questions:
Are batteries included in the package?
No, batteries are not included in the package.
Can I charge this device directly?
No, the device doesn't have a rechargeable battery. It runs on two 1.5V AAA batteries. We recommend rechargeable AAA batteries for cost savings in the long run.
Why is there no temperature reading on my anemometer?
When the wind is blowing, your anemometer will display wind chill in the place of temperature. If the wind speed is too low, the wind chill reading will be the same as the temperature.
What is the best orientation of the anemometer for accurate measurements?
The anemometer provides the most accurate measurements when it is held vertically, with the front of the device facing the direction in which wind speed is to be measured.
Image: