Description:
The STK128+ is a complete, cost-effective development board for the ATmega128. It is designed to give designers a quick start to develop code on ATmega128 MCU and makes them develope prototype device easily.
The ATmega128 chip is mounted on a device board, which can be separated from the mother board. Hence, easily changing MCU is supported. 
The STK128+ Standard package comes with an ATmega128 device board, while the STK128+ Premium package comes with the standard package, an additional spare ATmega128 device board, an Experiment Fittings Pack, usb power connector.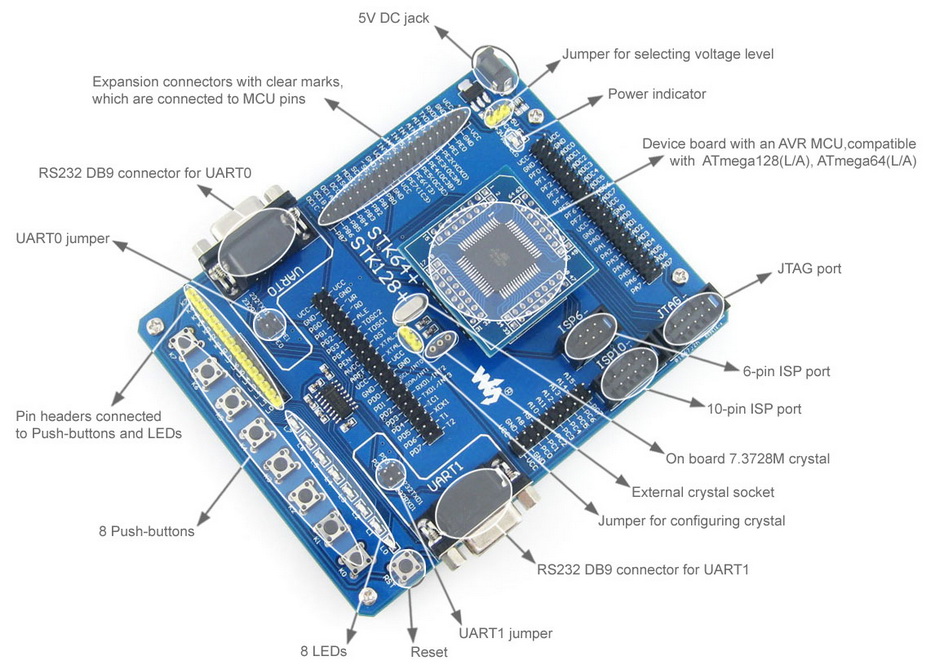 Power

Powered from external 5V power supply

Jumper for configuring voltage level to be applied, 5V/3.3V

Onboard Chips

ATmega128 (TQFP64), MCU, mounted on the device board

AMS1117-3.3, on board regulator

MAX3232, True RS232 Transceivers

Interfaces

Two RS232 connector for UART0 and UART1, DB9 standard

Guaranteed to operate under 3V level supply thanks to the MAX3232

UART0 and UART1 jumpers, short the jumper to connect UART to AVR MCU, open the jumper to vacate the I/O ports.

6-pin / 10-pin ISP port

JTAG port

Human to Machine Interface

RESET button, used to reset the MCU

Power indicator LED

8 surface mounted LEDs, can be used as I/O status indicator

8 Push-buttons, for analog input

Other Features

Crystal configurable, there is a jumper for selecting on board 7.3728M crystal or external crystal mounted via the socket

All the MCU pins are accessible on expansion connectors for further expansion

All the pins are marked on the board. These marks describe the function of each pin

Compatible with several AVR MCUs:

Fully compatible with: ATmega64/ATmega128

Partly compatible with: ATmega1281/ATmega2561, AT90CAN32/AT90CAN64/AT90CAN128
Image: