Description:
Product Description:
Overview:
The Automatic Garden Water Timer is an excellent one-stop solution for controlling irrigation systems in lawn sprinklers, drip houses, as well as other kinds of sprinkler system. It's an affordable and easy to use  tool that helps save water especially during seasons of summer or droughts. 
Set the time you want the watering to be done and off you go, it takes care of all the watering of your garden or sprinkler for the lawns. You have a healthy garden and lush green lawns without having to bother abour the routine chore of watering them. It also has smart mode to allow to choose the days you want to water making it fit all your custom needs.

The digital irrigation timer attaches to any outdoor hose with a 13mm (1/2"). It is suitable for any plug-in system for flexible but effective control of watering duration and frequency.
Impact and weather-resistant ABS material with plastic cover keeps out dust, soil and dirt away from the LCD display. The LCD interface displays easy-to-read text that alternately shows current date, time and program status. It has an easy ON and OFF button switch and watering program settings (1-16 options) that are fool-proof, straightforward and user-intuitive.
This programmable irrigation Solenoid Valve Irrigation Sprinkler has a power consumption of up to 1,500 on/off cycle using 2 1.5V (2 x AAA batteries, NOT included). It also has an easy detachable compartment of batteries for seamless replacements. So if you turn it on once a day it is going to last you a year on one set of batteries easily.
If you are going on a vacation and you want your plants to be watered, this automatic watering system is all you want to keep your plants healthy and well watered in your absence.

Specification:
·       
•    Size: Approx. 9.8cm x 16.5cm / 3.8" x 6.5"
•    Package Weight: 280g
•    Material: ABS plastic material
•    Design: Rubber gasket design, tight-sealing and leak-proof
•    Valve type: Solenoid valve
•    Condition: Brand-new; mint condition
•    Hose Connection: 13mm (1/2") - Suitable for all known plug-in systems (Hose not included)
•    Water Connection: 21mm (0.8") tap with 26.5mm (1") thread
•    Irrigation Time: shortest 1 min, longest 9 hours 59 min
•    Working Water Pressure: max 6bap 150bpi; 0~400KPA
•    Water Temperature: max 0~40°
•    Time display format: 24-hr
•    Irrigation Medium: Clear Fresh Water
•    Switch: Automatic, Manual
•    Power Source: 1.5V AAA Size Batteries x 2 (Not included)
•    Size: Approx. 9.8cm x 16.5cm / 3.8" x 6.5"
•    Package Weight: 280g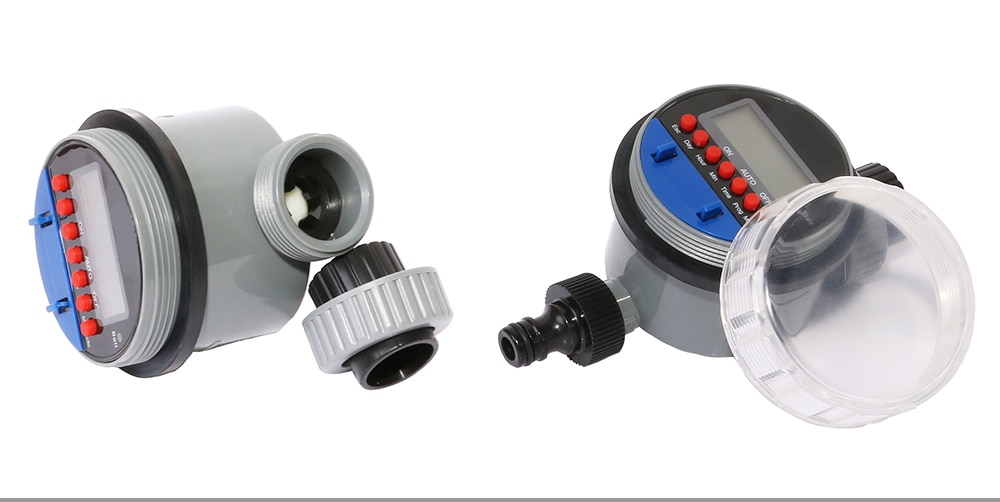 Package contains:
·        1 x Irrigation Timer + Accessories (1 x unit nut, 1 x rubber gasket, 1 x dust cover, 1 x water tap connection)
·        1 x User Manual
Applications:
Drip irrigation

Auto garden watering system

Automatic lawn sprinkler system ( sprinkler timer )
Here are some ways you can use the programmable irrigation tool around your home:
For busy people who often go out of the house for errands - Using this programmable irrigation tool is a convenient way to water plants even when you have to leave the house for errands.

For the frequent weekend traveller - This intelligent, programmable tool is an excellent way to ensure your lawn stays hydrated especially in the summer.
For homeowners with beautiful gardens - The nature-inspired green color and design will not distract visitors from the serenity of any floral views – a must for every home.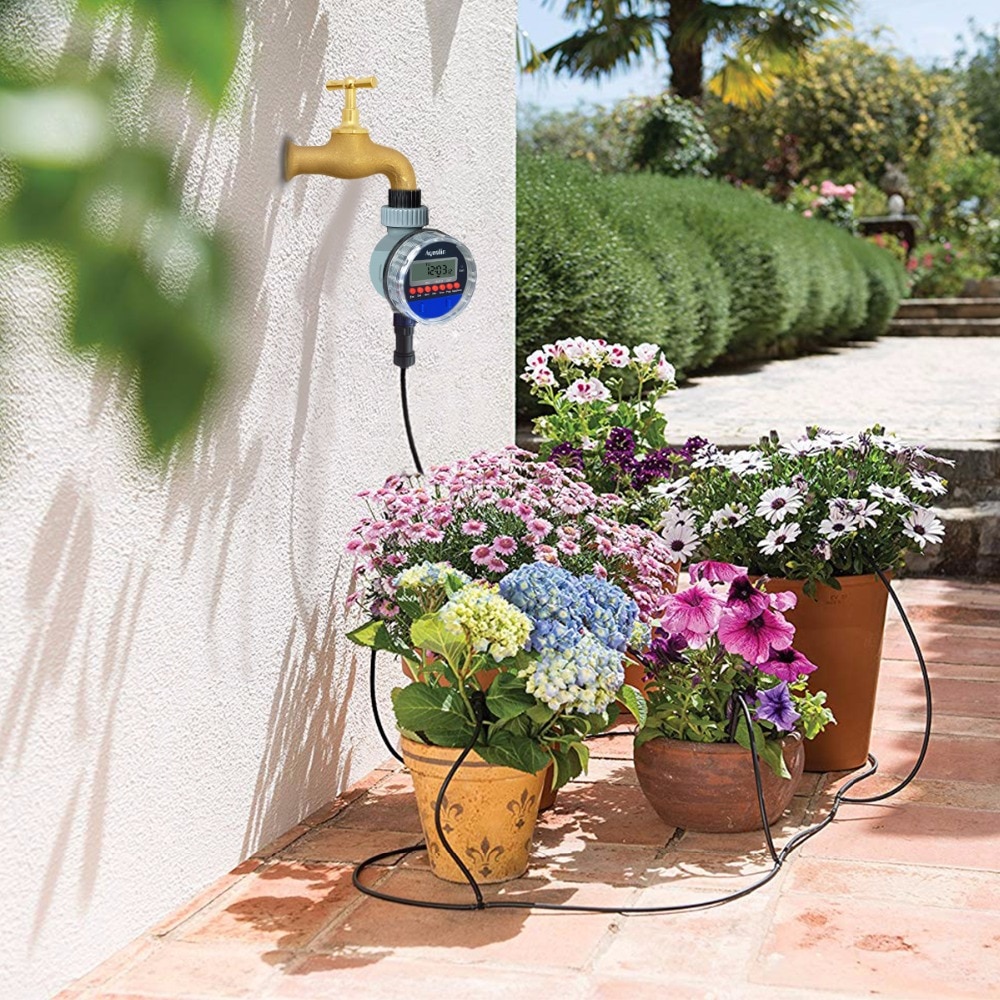 For people with budget constraints - Using this irrigation timer is a cost-effective and time-saving means to water any garden plants. One valve is all you need and some Y Splitter or Hose Splitter for 3/8" Micro Tubing.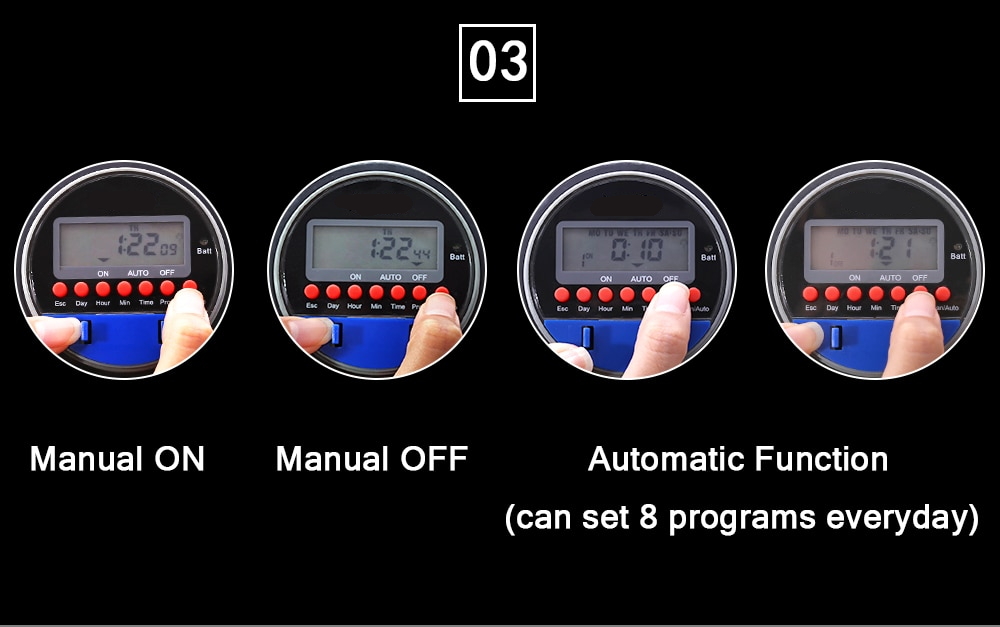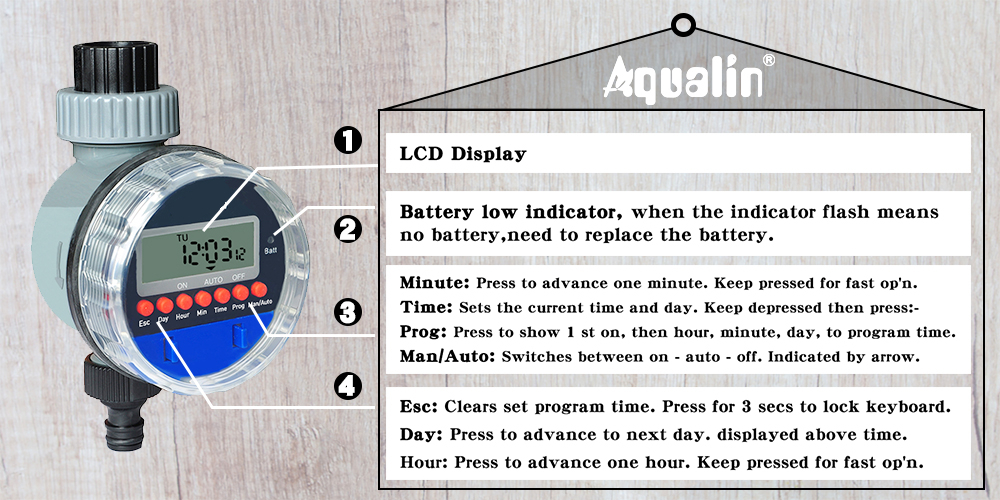 Operating Instructions:
For detailed instructions, an operating manual is included in the box. Date, time and watering programs can be set according to your schedule and needs. Make sure to program the irrigation timer before connecting to a closed water tap. It is important to note that a water tap with a 26.5mm thread is needed.
Frequently Asked Questions:
Q: What happens when batteries are low?

A: There is a low battery indicator light which flashes in Amber color, This indicates low battery and when this happens its time to replace the batteries.
Q: What is the difference between manual and programmable operation?

A: There is an ON/OFF button to turn on and off the tap any time you would like to do so manually. For automatic operation, set the time of day you want it to operate and then adjust the length of time you want it to remain open. This can be programmed for each day of the week. You can also turn it on and off for 16 different times and for various time lengths.
Q: Can the unit be set to water only some days a week?

A. Yes, absolutely. The unit allows for selecting days of the week you would like to do the watering.
Q: What type of batteries are recommended ?
A. Alkaline batteries from Duracell or Energiser are best suited as they give you long life and trouble free operation.
Q. What are the benefits of using an automatic garden water timer?
A. Using an automatic garden water timer can save you time and money by ensuring that your garden is properly watered on a regular schedule. It can also help you conserve water by eliminating the need for manual watering and ensuring that no water is wasted.
Image: