Description:
The process of building a perfectly flat surface or forming a 90 degree alignment requires proper measure across multiple points. Although, the level can be checked using old-fashioned tools, but they are neither easy to use, nor as accurate as laser levelling device. Older level devices take more time to use and require lot more human effort to get it right. However, with this smart laser levelling device, not only perfect levels can be ensured, but your effort can reduced to minimum.
Self-levelling laser enables the user to project laser lines on a wall while the user can comfortably perform the task. The robust design and variety of features assist users in enhancing efficiency and bringing perfection to their work.
This laser level device can project lines and dots for level guidance at long distances. The device has been designed to project both horizontal and vertical lines along with plumb point. It can be used in bright light too; the laser glasses can be used for clear visibility of the laser beam even in brightness. The device has powered option as well as battery powered so that it can be used at remote sites with ease.
The laser window has been designed with water-resistant and dust-resistant material, hence making it very useable in humid and dusty atmosphere. The device has the option to be mounted on a tripod for a higher position operation. The device provides a lot of technical features for a low price but it is very easy to use.
For more details on how does it work, check this video
https://www.youtube.com/watch?v=Mw_vtsGdY0U
Main Features of Self-levelling Laser:
Laser levels are used for levelling and aligning vertical, horizontal, square, angle, grading-slope and point-transferring applications. Contractors use line laser levels for initiating a number of projects, including drywall installation, HVAC, ceiling joist, rafter alignment, doors and windows, sprinkler installation and tiling and flooring.
Masons use this device for aligning plumbing walls and studs. It is also used to help maintain plumb walls with vertical applications for taller walls being constructed. As well as to help check the levelling of laid block and brick while ensuring the building/project is square. It helps in getting the job done to perfection.
Laser levels are also useful for outdoor applications. Landscapers use these devices for various levelling projects like terracing and retaining walls.
High precision

Visibility in bright light

Easy to carry

Battery-powered

360 degree horizontal and vertical projections

Rotating Lasers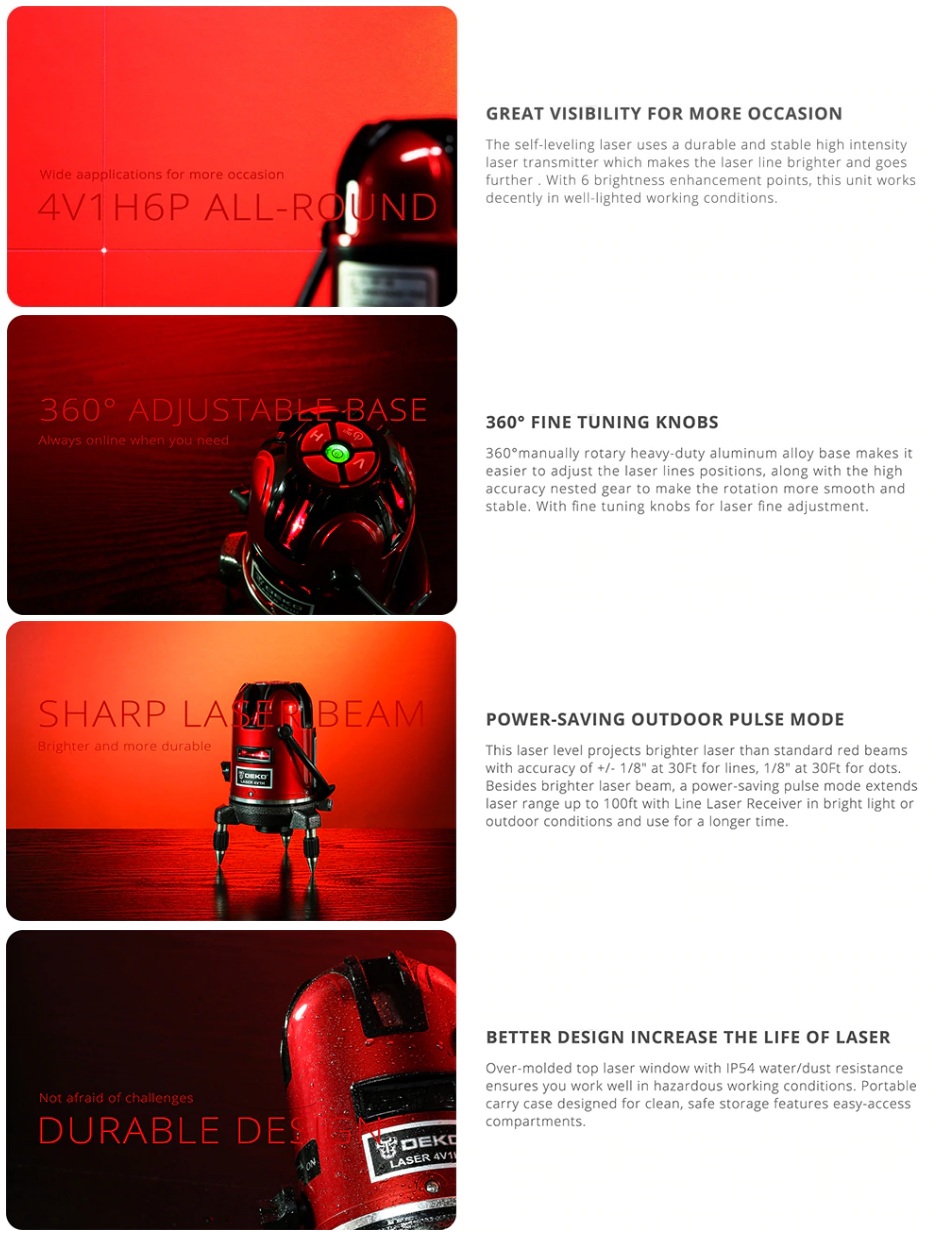 Self-levelling Laser Specifications:
Auto level and bubble level supported
Measuring range (with detector): up to 100ft 
Measuring range (without detector): up to 33ft 
Laser type: Class 2 (IEC/EN60825-1/2007) <1mW power
Wavelength: 635nm
Self-levelling angle: 3° 
Levelling type: 4V1H1D
Tolerance: ± 1mm at 5m
Up to 6 laser dots
Up to 5 laser lines
Red colour beam 
IP Rating: IP54
1.5V x 3 batteries
Operational hours: 8
Adapter input voltage: 100-240VAC (50-60Hz)
Operating temperature: -10° to 4° C
Weight: 950g
Dimensions: 23.9x11.5x11.5 cm
Applications of DEKO LL5 Series Self-levelling Laser 
Self-levelling laser devices are useful in construction processes for analysing the level of a roof, floor or a wall. They are also used for measuring the height or distance between two points. Apart from construction applications, laser levelling devices are also useful in perfect alignment of furniture, ceiling falls, wires, paint, tiles, and other equipment.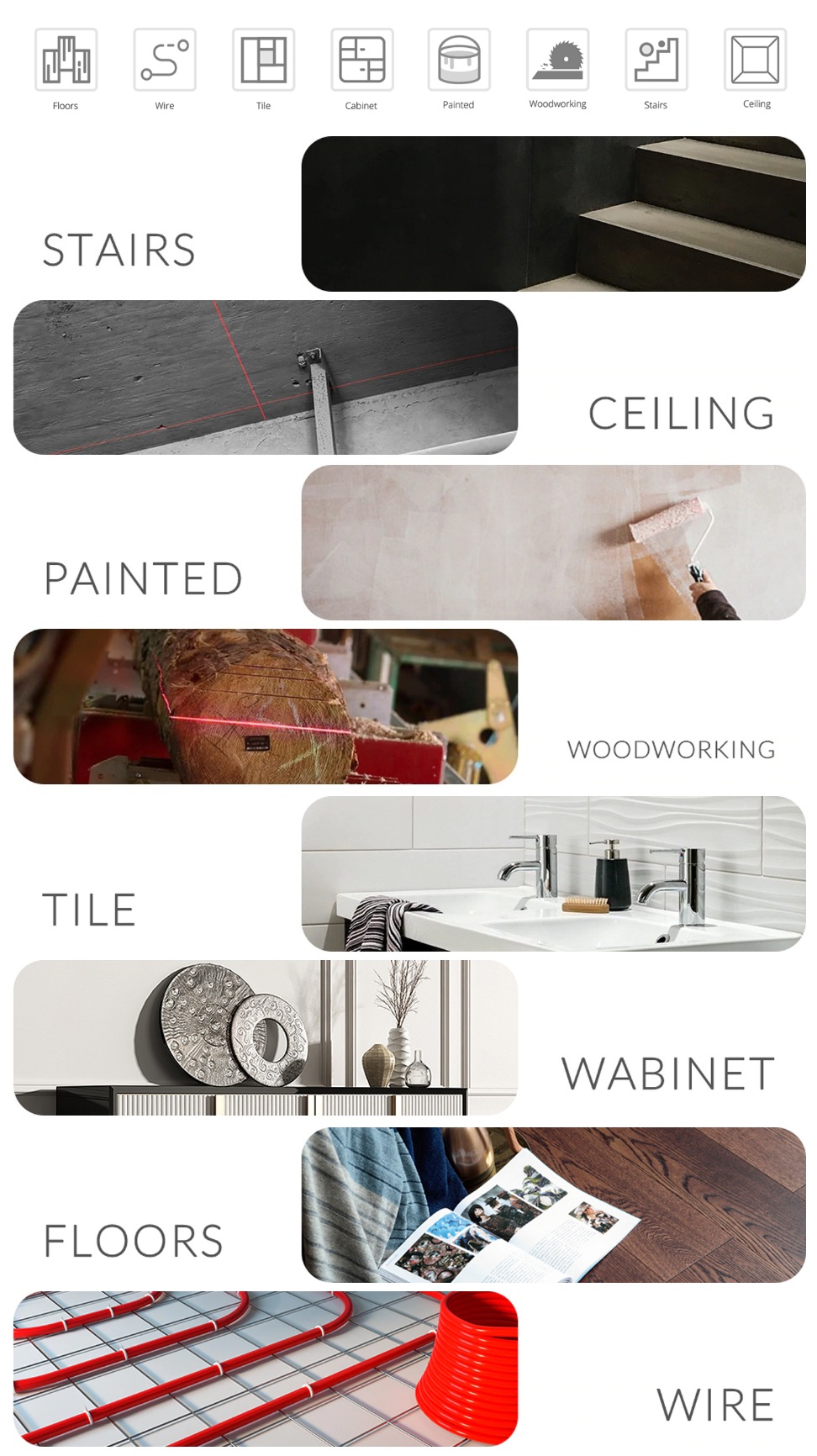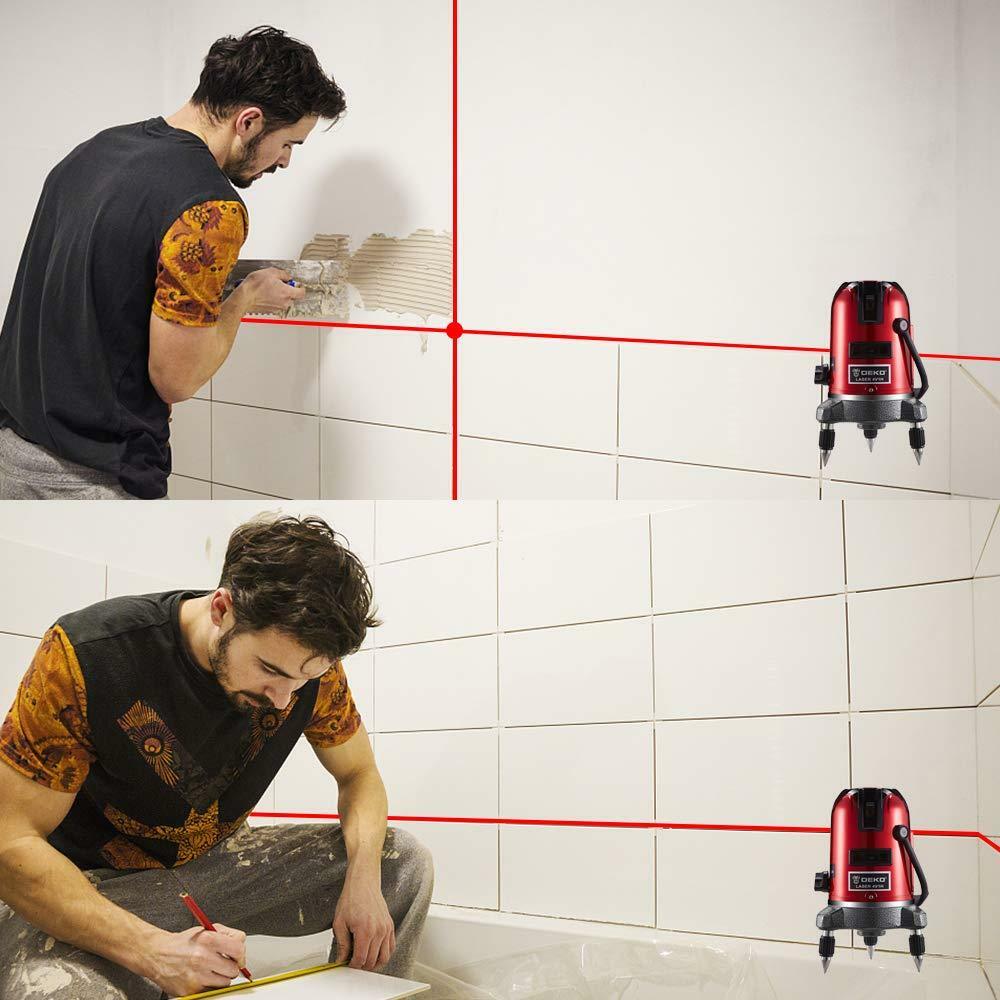 Package Contains:
Laser level

Laser glasses 

Oxford cotton bag

User manual
FAQS:
1 - What is the maximum range of this laser device?
Its maximum range is 30 meters (with detector) and 10 meters without detector.
2 - Does it work in bright sunlight?
Yes it does, but with special glasses (included in package)
3 - Is it portable and easy to carry?
Yes, this laser devices comes with an easy to carry cotton bag, and the device can be used at any remote location since it can be powered through batteries. Besides, it is easy to carry as it weighs only 950g. 
4. What type of batteries does the device use?
The device uses 3xAAA batteries. These batteries are not included in the package.
5. Can the laser level be mounted on a Tripod?
Yes, the laser level can be mounted on a tripod, See below image for the mounting details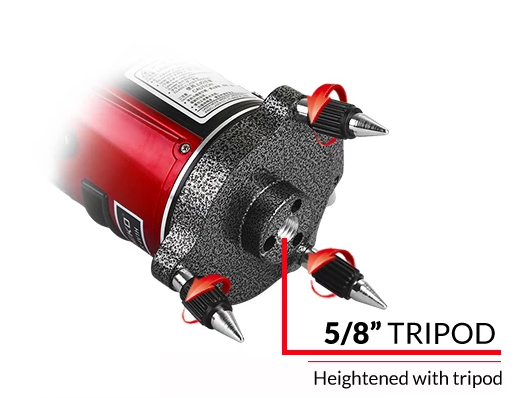 Image: