Description:
Brand new unopened RIGOL DS1052E 50MHz Oscilloscope
It's the perfect present for anyone who loves electronics!
When it comes to working with electronics one tool you cannot do with is the oscilloscope, Be it to diagnose problems or to verify correct operation.

Oscilloscope offers a visual insight into the operation of the electronic components which no other diagnostic tools like a multimeter or probe can provide.
It is a must have instrument in the toolbox of an electronics hobbyist or technician.
About Rigol, This is the company which manufactures scopes for Agilent and HP as is mentioned in the review.

Product Features
- 1 GSa/s maximum real-time sample rate, - 25 GSa/s maximum equivalent-time sample rate
- 50 MHz Bandwidths
- 20 automatic measurements
- 64 k TFT color LCD, bright and vivid waveform display
- Ultra compact design: 303mm x 154mm x 133mm (WxHxD)
- 2 Analog channels + external trigger
- 1 Million point deep memory
- 1 GSa/sec max sample rate
- 5.7" TFT QVGA (320X240) with 64K color LCD backlit display
- Trigger modes: edge, pulse width, slope, video, pattern, continuous time, and alternate
- Comes with 2 high frequency probes.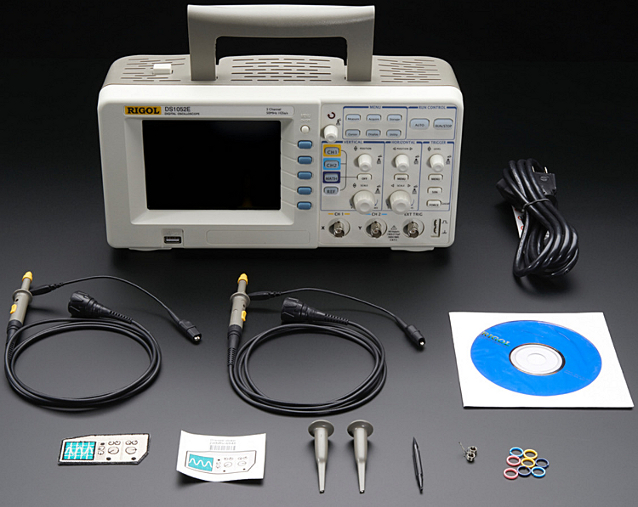 FAQ
What is the max Frequency of signals which can be viewed on the oscilloscope?
50Mhz
Can I view the Fast Fourier transform (FFT) of the signals ?
Yes, there is a Math option which allows you to see the frequency domain (FFT) view of the signal.
How many samples can the oscilloscope hold in its memory?
The scope can hold 1 Million point deep samples in memory.
Image: