Description:
Professional Car Diagnostic Tool
If you are a car enthusiast and want to communicate with your car's electronic brain, also known as on-board-diagnostics, this is an ideal tool for you. Simply plug in the unit to your car's 16-pin OBD2 port and you are good to go.
There are nine basic functions provided.
Read vehicle information 

Reading of codes

Erasing of codes

Turn off Engine warning light, reset.

I/M Readiness (Inspection and Maintenance)

Data Stream

Viewing Freeze Frame

Live Data Streaming

Smoke Emission Check

Engine EPC check
 
Trouble-shooting: 
The tool is smart and will tell you what the error is, rather than just giving you a code which you have to look up elsewhere. Compact, Light, pocket sized, this diagnostic unit works on most cars that have a OBD2 port.
 
With live data, you can monitor the engine characteristics such as Temperature, RPM, Speed, Voltage etc. In the data stream mode, you can plot functions graphically (waveform) and freeze-frame to visualize the parameters.
If you are going to spend a lot of money on your car - for repairing a misfiring ignition system, Exhaust Gas Recirculation (EGR) catalyst system, Fuel system or oxygen sensor, or transmission problem, this is your life saver. Do a bit of problem identification and problem solving yourself and save a lot of money. For all you know, the real solution may be to change the gas cap and not an engine component.
Typical problems which can be tackled are
Ignition function is difficult / starting troubles 

Engine Fault light is ON

There is liquid leakage from the vehicle 

Exhaust is exceeding emission limits

Fuel consumption is high

Power delivery is low 

Freeze Frame allows knowing engine characteristics at time a fault is noticed.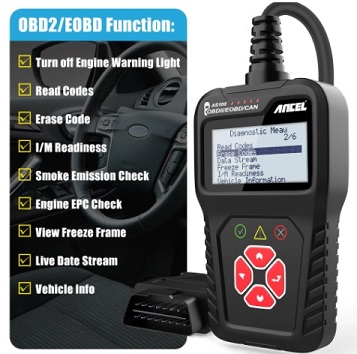 Languages: 
The unit offers the following language options - 
Deutsch (German) 

Dutch

English 

French 

Greek 

Italian 

Polish

Russian

Spanish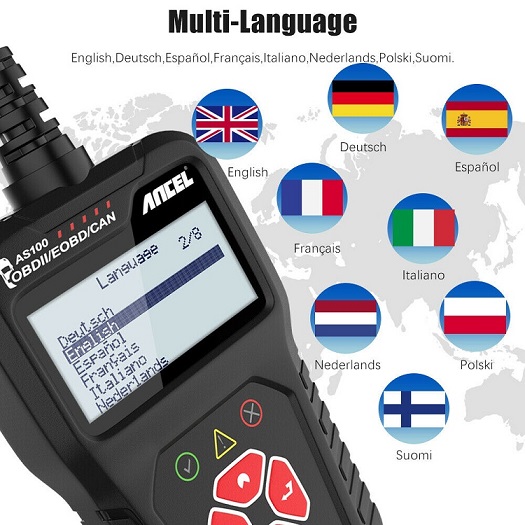 Compatibility

: 
The following top ten models sold in New Zealand (data 2019) are covered by this tool - Ford Ranger, Toyota Hilux, Toyota Corolla, Toyota RAV4, Mitsubishi Triton, Holden Colorado, Mazda CX-5, Nissan Navara, Kia Sportage, Suzuki Swift. 
Most vehicle models and makes with OBD2 or EOBD port and work with a 12V battery will connect to this unit. 
US: Chrysler, Ford, GM, Jeep, Chevrolet, Cadillac, Lincoln, Dodge, Buick
Australian: Holden
Europe: Audi, Bentley, Benz, BMW, Citroen, Fiat, Jaguar, Mini, Opel, Peugeot, Skoda, Volvo, VW
Asian: Acura, Daewoo, Honda, Hyundai, Infiniti,  Isuzu, Kia, Lexus, Mazda, Nissan, Subaru, Suzuki, Toyota.
Chinese: BYD, Changan, Chery, Emgrand, Foton, Geely, GWM, Wuling, Yuan
General: If your vehicle is older than 2008, please check before purchasing.
Other: You should note that this will not work for Electric Vehicles.
Gifting:



This Diagnostic Tool Kit is a perfect gift to your nephew or niece so they get interested in automotive engineering. Teenagers are fascinated by the details this simple kit can teach them about vehicles. 
Catch them young and teach them preventive maintenance. 
Dimensions: 
3.07 inch x 5.28 inch x 1.26 Inch

Price: xx.xx
FAQ:





1. Where does the unit connect to, in the vehicle?
In most cars, the OBD 2 port is located under the steering wheel. In some vehicle models, this may be under the glove compartment on the passenger side or in the center control panel.


2. Are there other colors the unit is available in?
The model comes in a black color and other colors are not available at this time.



Image: