Description:
Overview
This portable USB digital microscope can be used in a myriad of scenarios - from examining your soldering, observing the texture of a leaf or seeing the tiny hairs on a housefly. Your options are limitless. With a zoom of 50x-500x, it magnifies objects and makes the little details easy to see for whatever you are working on. 
Most microscopes need a Laptop to work, making it difficult to use in outdoor environments and field trips. This microscope solves this problem by using Wifi to pair with your mobile phone, This makes it easy to carry around and a perfect fit for outdoor use with your mobile phone.
This model has its inbuilt rechargeable battery, so no disposable batteries required or neither long power cables needed.
The built-in snapshot button allows you to capture HD images with a single press and with the flick of a switch, the 8 LED light source allows for additional lighting as you capture HD images or videos. Included with the digital microscope is a handy stand to keep your hands free as you inspect your solder, wiring or circuit board.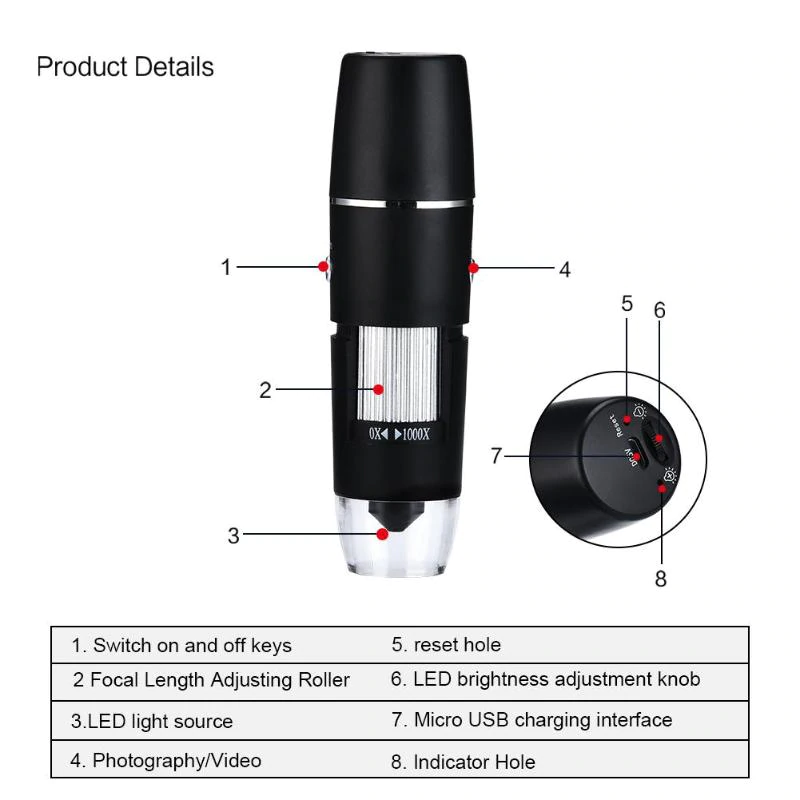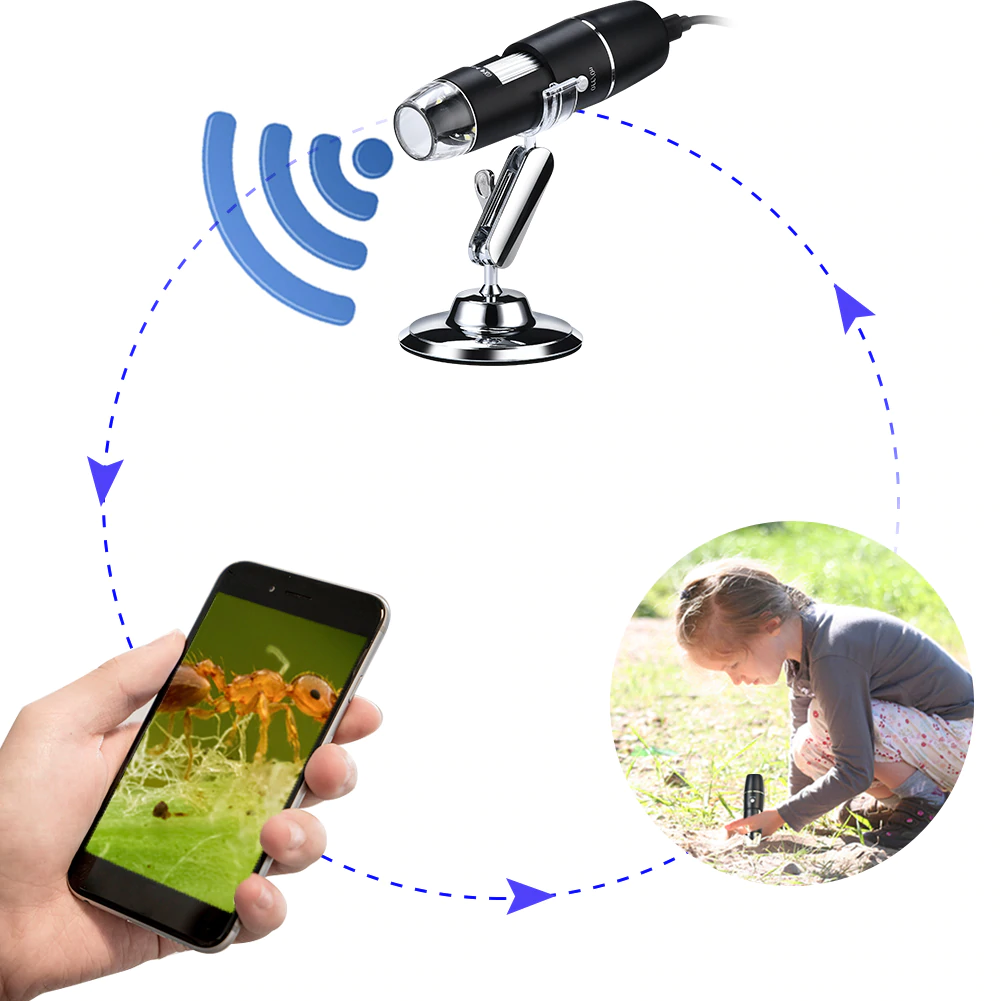 Specification:
Magnification: 0-1000X

LED quantity: 8pcs SMD3528 highlight white lights (brightness adjustable)

Focus mode and focus range: manual adjustment, 0-40mm

Imaging distance: 3mm to Infinite

Sensor Size: 1/7.5"

Signal-to-noise ratio: 45db

Sensitivity: 3V/lux-sec

Video recording format: AVI

Video Resolution: 640*360

Photo format: JPG

Operating range : 0-10m (open scene, shade scenes affect the range)

Working hours: ≥ 90 minutes (full power state, battery life also affects working hours)

Power supply: 650mah built-in lithium battery

Charging requirements: DC-5V/1A

WiFi operating environment: for Android 5.0 and above systems, for IOS 8.0 and above system

WiFI operating environment supporting equipment requirements: support for 2.4Ghz (8201.1.11b/g/n) wireless data transmission equipment

Operating temperature: 0-40 ℃

Storage temperature:-10-60 ℃

Operating humidity? : 30-60%RH

Size: 135*30*30mm/5.31*1.18*1.18in

Weight: 200g
Applications
Examine PCB solder joints and circuit boards
Study plants and microstructures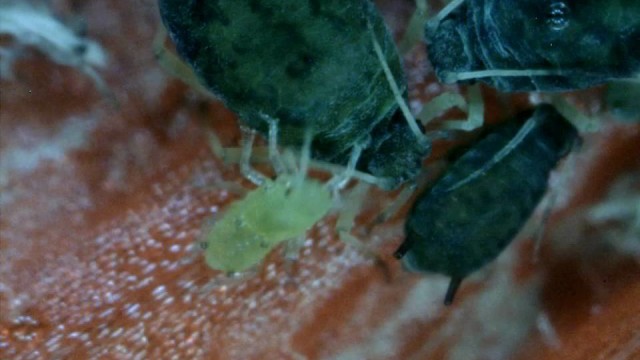 Inspect your 3D printer nozzles, filament or even on your record player needles for imperfections!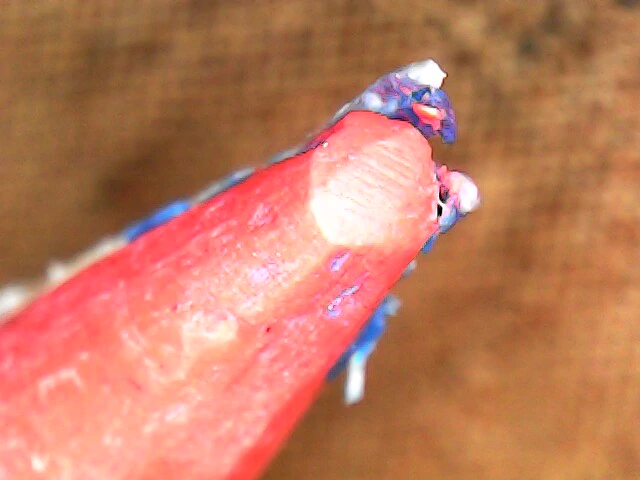 Pencil Tip
Frequently asked questions
Q. Can we control the brightness of the lighting?
The microscope has a led backlight to provide good lighting for the specimen under observation.
The microscope cable has a turnable knob which allows you to adjust the brightness of light to best see the specimen
Q. Can we take a picture of the image seen by the microscope?
The Microscope has 2 buttons one of which is 'SNAP', this button captures a picture of the view and lets you save it.
Q. Where do I find instructions to use my Phone with the Microscope?
The Microscope comes with a 'Quick start guide' which walks you through the process of downloading the app as well as setting up the microscope to use with your phone.
Q. Does this microscope work with Iphones and Apple devices?
Yes, this microscope has an App for Apple devices which you can download from the App store,
Details of the same is provided in the 'Quick start guide' manual.
Q. Does the microscope need batteries to work?
No, The microscope has inbuilt rechargeable batteries, You can easily recharge them using your mobile phone charger.
Q. Does the microscope need any wires to operate?
No, Since the microscope operates wirelessly through Wifi, No wires are needed for operation. Making the unit very easy to use.
Image: