Description:
Overview
Do you want to add a bit of flair to your interior decor without burning a hole in your pocket? Are you looking to make your parties more fun? Do you want to make your TV experience more immersive? If your answer to any of these questions is yes, then we have the right product for you. Meet our newest launch: an RGB light strip with Bluetooth remote.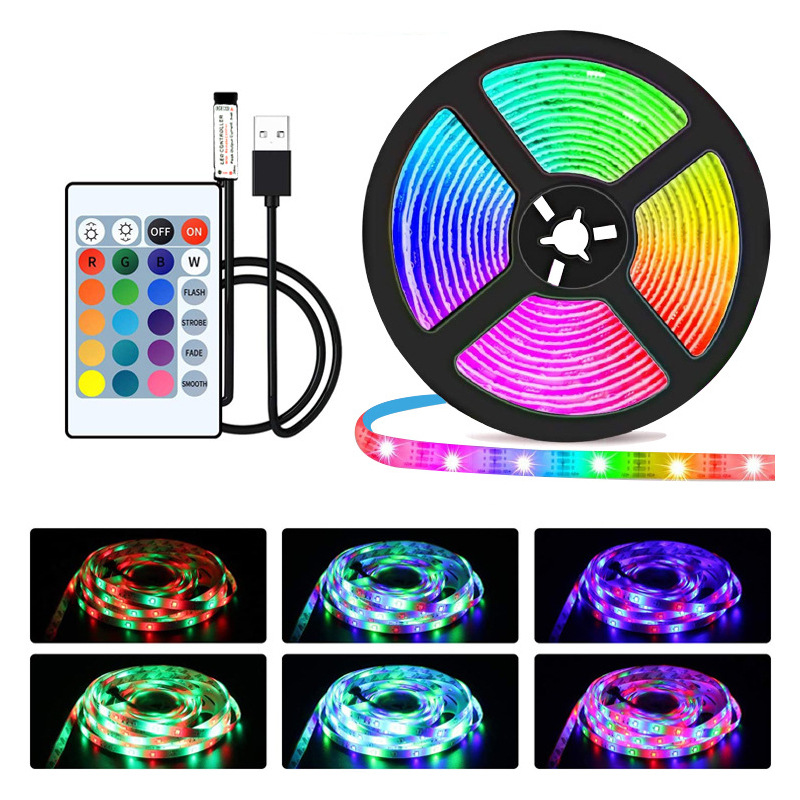 This colourful LED strip can be used in a variety of environments in numerous ways. It is flexible and can be bent and shaped to meet your requirements. You can stick it under cabinets, behind TVs and monitors, along the stretch of your home bar, under your beds, on your walls, etc. for a dazzling array of light effects and colours ranging from subdued to disco. Installing it along the backside edges of your TV or a monitor, for example, creates an immersive viewing and gaming experience.
No matter where you place these RGB lights, controlling them is incredibly easy with the included remote. Since the remote uses Bluetooth to send commands, even the lights that are installed in the difficult-to-reach corners of your house can be controlled easily and reliably from a distance. The slick remote includes dedicated buttons for on/off functions, brightness controls, RGBW colours, and light effects such as Flash, Strobe, Fade, and Smooth.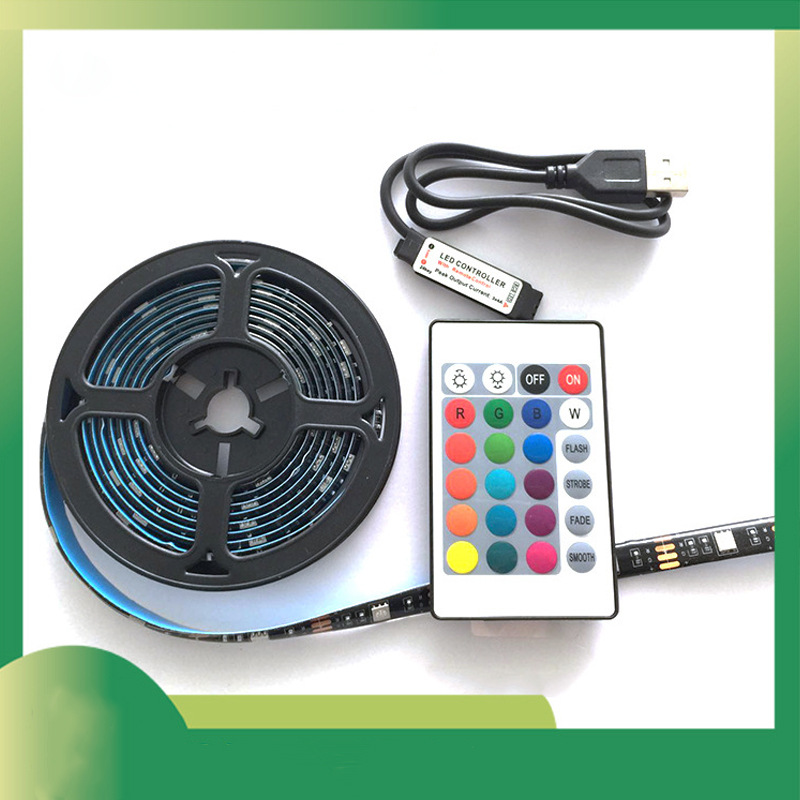 The LEDs are powered via a USB cable, allowing for an easy and inexpensive installation without requiring drilling or the services of an electrician. Even better, it can be removed and installed elsewhere with nothing more than an adhesive tape. It doesn't require any hubs or apps for setting up or controlling the lights. Best of all, this RGB light strip doesn't consume a lot of power, which is great both for the environment and your energy bills. Yet, these tiny lights, like all other LEDs, pack a punch when it comes to brightness.
All these advantages and flexibility make this RGB light strip a perfect choice to light up a variety of objects and occasions. So, what are you still waiting for? Order this RGB light strip from our online store right now!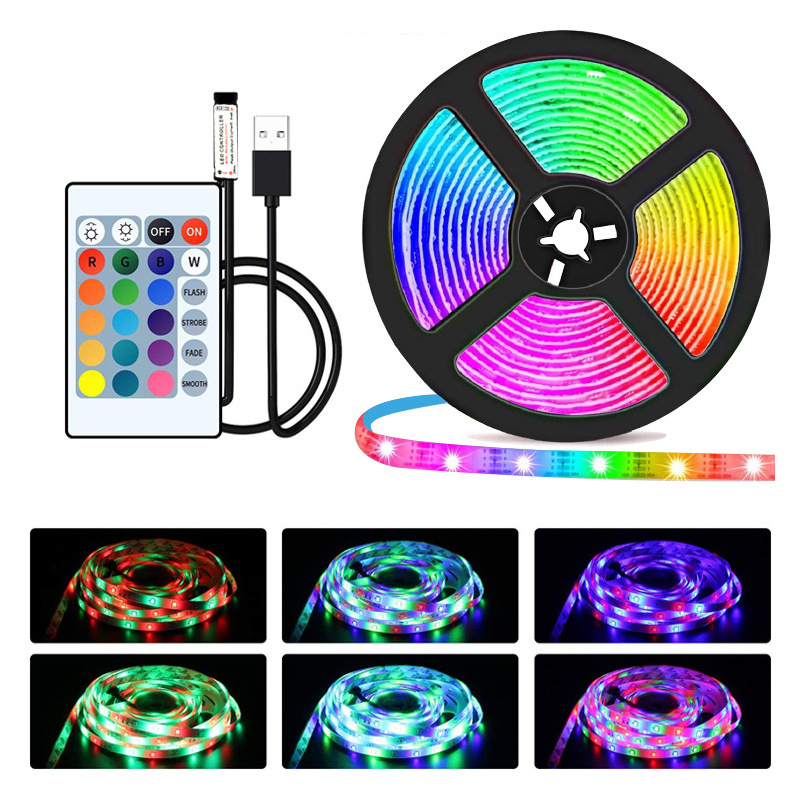 Reasons to buy this RGB light strip
Easy to install, transfer, or remove

Energy-efficient LEDs

A dazzling array of colours and effects

Inexpensive and long-lasting

Plug-and-play operation

Bluetooth remote control

Unobtrusive looks when not in use

Gentle on the eyes
Technical Specifications
Colour Support: Yes (RGBW)

Form Factor: Strip

Dimmable: Yes

Length: 

Light Type: LED

Voltage: 5V

Port Type: USB

Remote Control: Yes

Connection Type: Bluetooth

App Support: No
Package Contents
LED light strip

Bluetooth remote

USB cable
Applications
There is no limit to where you can use this RGB light strip in your home. You can install it on, under, and/or behind any solid object, provided you can supply power. With this versatile light strip, your imagination is the only limit.
Some of the most common use cases for these LED light strips include: 
Behind monitors and TVs

Under-cabinet lighting

Cove lighting

Lighting under stairs

Pathway lighting

Mood setting for parties

Dazzling festive decorations

Strobe effect for disco at home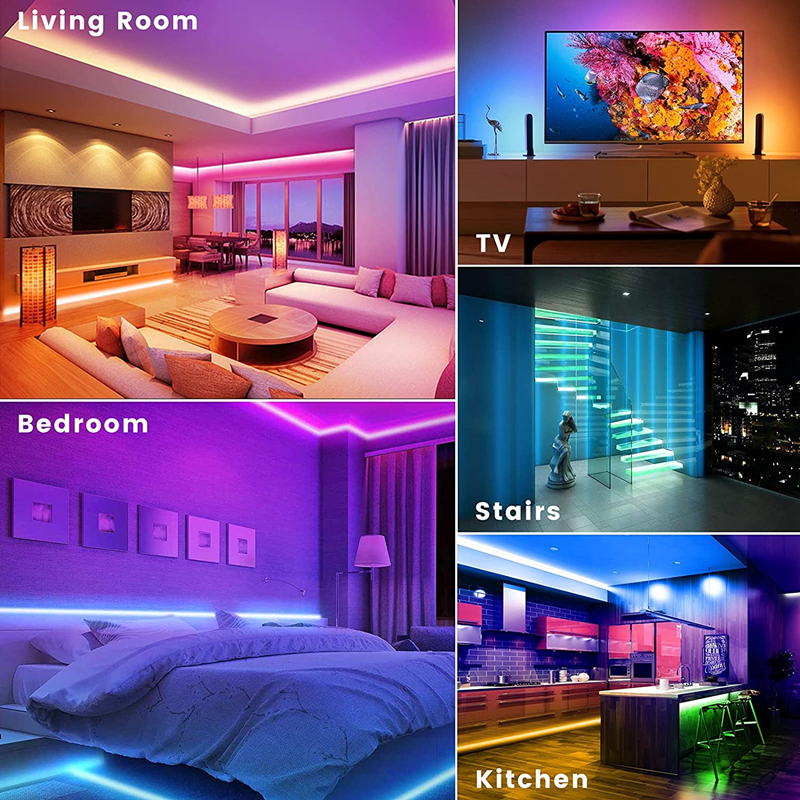 Frequently asked questions:
What are LED light strips and how are they used?
LED light strips are a form of lighting solution that relies on a series of small light-emitting diodes (LEDs) on a flexible strip for illumination. They are used for both decorative and general lighting in a variety of indoor and outdoor spaces. These strips generally allow users to control the LED colour, intensity, and other light effects through a remote control or an app.
Can these LED light strips be cut into smaller lengths?
Yes, most of these LED strips can be cut into smaller lengths to suit user requirements. There won't be any damage as long as they are cut at the designated markings on the strip using the recommended tools. Check instructions from the relevant manufacturer before you attempt to cut any light strip.
What is the lifespan of LED strips?
LED light strips are durable, flexible, and will last for many years without any significant deterioration in light uniformity or intensity. Their lifespan is affected by factors such as strip quality, specifications, thermal management, usage patterns, and external factors in the installed environment. The LED lights themselves have a lifespan of up to 50,000 hours. That works out to a lifespan of more that 10 years if it was turned ON for 12 hours every day. Thats a lot.

Do these light strips use a lot of electricity?
No. LED lights are highly energy-efficient and consume up to 90% less electricity than incandescent lighting. So, unless you go overboard with the length and number of strips, these LEDs can actually bring down your electricity bills, while also being a superior mode of lighting.
Image: