Description:
This digital MultiBand radio boasts features you would traditionally find on a much larger radio including provision for an external antenna, Digital Signal Processing (DSP), and selectable IF bandwidth which produces amazing audio performance from such a small receiver.
Comes with a large LCD display and auto scan feature which makes listening a breeze, Great for listening to signals from all over the world. The radio covers MW, SW and FM band reception. This radio is compact and easy to carry also rich in features.

The use of the Si4734 microchip in the Tecsun PL310ET Multi-Band Radio greatly improves the sensitivity, selectivity, and overall performance of the receiver.
The Tecsun PL310ET Multi-Band Radio has been upgraded and is equipped with Easy Tuning Mode (ETM), Tecsun's proprietary tuning technology. The Easy Tune Mode (ETM) ensures stations already stored in the receiver memory are not overridden when an automatic scan is conducted. Tecsun's inclusion of ETM in the features of the PL310ET Multi-Band Radio make this model one of the most fully featured portable radios for travellers.
Shortwave Radio Listening is one of the most popular radio activities in the world. Even with the advent of the world wide web, Shortwave Listening stands apart because it provides some of the best "unfiltered" news and content to be found. The joy of SW listening is that you don't need expensive equipment, a connection to the internet, an elaborate antenna, or even AC mains power.  To pick up most broadcasts, a few batteries and an pocket-sized shortwave radio are all you need.  This is simplicity at its best, and the reason there are so many people SWLing today. Of course, once you've mastered the basics of Shortwave listening you may also be interested in DXing (searching for more distant stations) which will require an upgrade from your pocket-sized radio; however, even then, you may be amazed at how little it takes to put together a good DX-chasing set-up.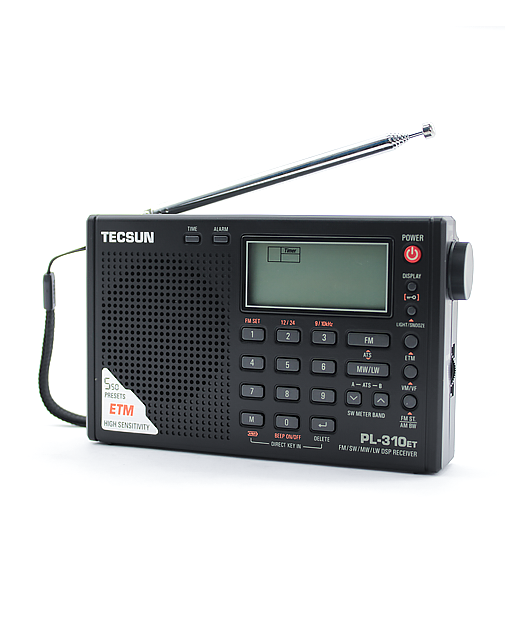 Alarm / Sleep Function

Easy Tune Mode

Digital Signal Processing for increased audio clarity

Auto Tuning Storage with ETM

AM / SW Selectable Bandwidth

Direct Frequency Entry

Dual Sleep Timers

Signal Strength Meter

External Antenna Socket (3.5mm)

Headphone Socket (3.5mm)

Battery Power Level Display

Dimensions 141 x 87 x 30mm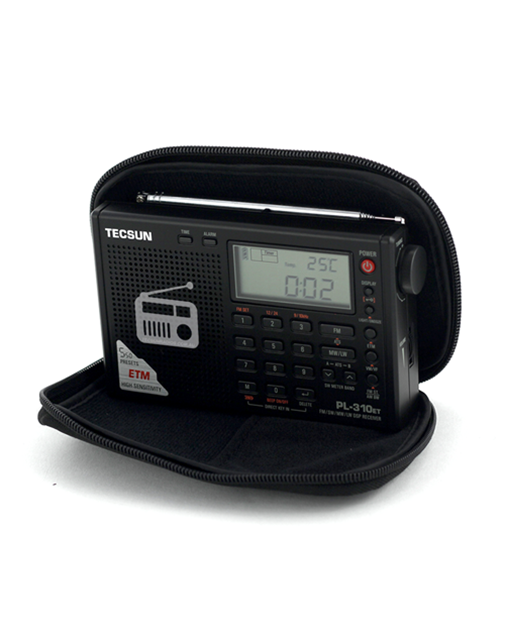 | FREQUENCY BAND | FREQUENCY COVERAGE | FREQUENCY STEPPING |
| --- | --- | --- |
| FM Band (Selectable) |          64 – 108 MHz or 76 – 108 MHz or 87 – 108 MHz | 0.01 – 0.1 MHz |
| AM Band (Selectable) |          522 – 1620 kHz (9 kHz steps) or 520 – 1710 kHz (10 kHz steps) | 1 kHz / 9 kHz |
| Shortwave |          2300 – 21950 kHz | 1 kHz / 25 kHz |
| Longwave |          153 – 513 kHz | 1 kHz |
Image: