Description: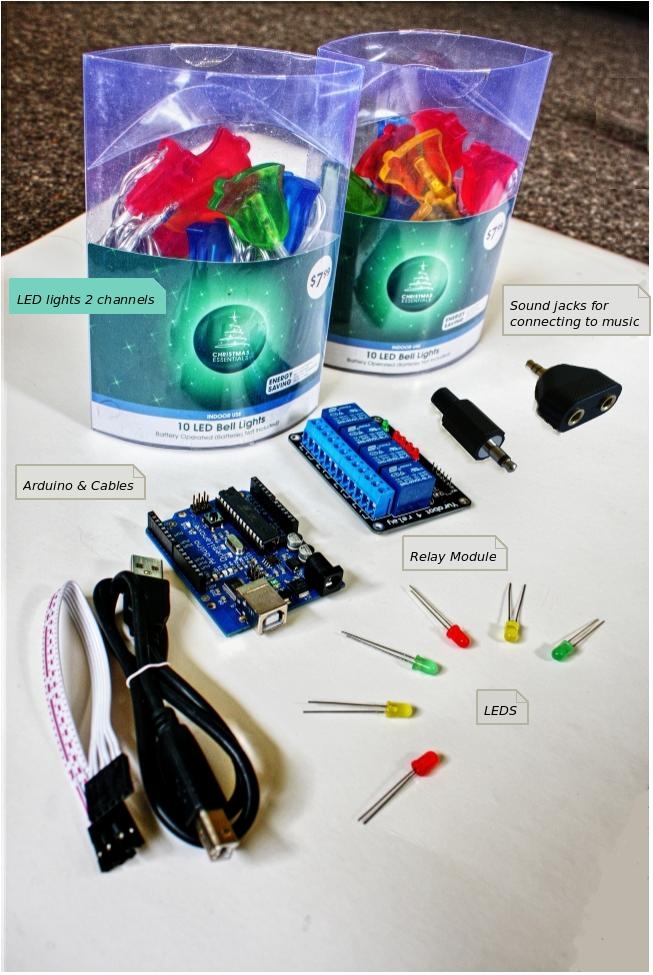 NOTE: the 2 strings of led lights supplied with kit will vary in color and type from picture

Dancing LED lights which dances to the tune of any music playing....
It is going to be the heart of any party and liven up your room and outdoors...
As simple as plugging the music from your favorite music player/ipod/stereo and the lights start blinking with the music...
Its simple DIY kit with all the bits you need and step by step instructions to construct it yourself.. Learn something new and build a kit which is the heart of the party..
The number of channels (strings of lights) it can control is limited by the number of I/Os in the Arduino. You can buy more relays from us to expand it.

Step 1: making LED lights dance to your music
Step 2: interfacing relay modules to arduino
Step 3: music plays and lights dance
Kit comes with
1. Arduino
2. Relay Module
3. 4 LED lights
4. 2 set of multi color lights with 20 LED's ( 10 x 2 )
5. Cables to connect the arduino and relays
6. Earphone splitter ( For connecting to MP3 player )
7. 3.5mm Earphone jack
Lighting direct, christmas decorations, christmas tree, led light, christmas lights, outdoor lighting, tree lights, string lights, battery christmas, christmas solar, white lights, controlled christmas, light display, music christmas, lights battery, clearance christmas
tags: arduino led, arduino rgb led, arduino lilypad
Image: